Wednesday, March 12, 2014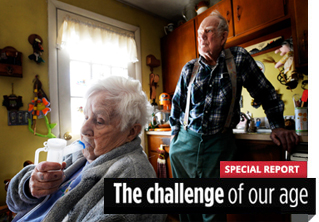 Arnold and Corinne Murray have spent years navigating a health care system that's not geared to the needs of the elderly. Their dizzying encounters with a string of doctors, hospitals and rehabilitation centers reflect the challenges of staying healthy in a state where there are not enough doctors who specialize in aging.
The 38-year-old's greatest rival these days might be a body that by his own account appears to be breaking down.
March 12, 2014
'Railroad to the Moon' and 'Deer Isle's Undefeated America's Cup Crews'
e-Edition
The daily paper delivered to your computer or tablet!
Browse page by page, including stories and ads, with interactive features that make reading a breeze from wherever you are.
Already a print subscriber?
Connect your account for continued access. Not a subscriber? Become one.
Subscriptions start at only $8/month.
Blogs
Maine, Naturally
Sen. King calls for action on climate change
Capitol Ticker
Gov. LePage taps Shawn Moody for Maine education boards
Today's Puzzles
Today's Crossword Puzzle

Today's Sudoku Puzzle

Maine's Top Jobs
Purchase Photos