Thursday, December 5, 2013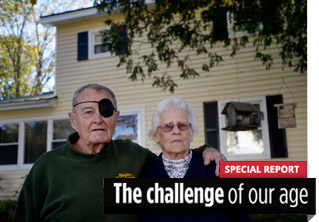 Cedric and Pauline Long were robbed of their retirement dreams by opportunists who were uncomfortably close to home.
Gronkowski has Patriots back at top of game
Tom Bartol
The Chocolate Church, in Bath, will host a holiday show Saturday evening when the "Irish Christmas In America" troupe comes to town. This year's performance features Lumiere (an Irish duo made up of Pauline Scanlon and Eilis (ay-leesh) Kennedy) with Seamus Begley (Ireland's 2013 Traditional Singer of the Year); Oisin Mac Diarmada (oh-SHEEN mac DAR-muddah) the show's creator/producer and fiddle player; Sean Garvin (on flute and uillieann pipes), Grainne (GRAHN-ya) (on harp); and two step dancers, Brian Cunningham and Samantha Harvey. In a recent telephone interview from her home in Dingle in County Kerry in the Southwest of Ireland, Kennedy spoke about the upcoming show in Bath while responding to the opening question.
Today's Paper
Read the new e-edition
For a limited time, you can access our complete print edition in its exact layout for FREE! Browse page by page, including stories and ads, during this limited time offer.
Check out the e-edition, Today's Paper
Blogs
Today's Puzzles
Today's Crossword Puzzle

Today's Sudoku Puzzle

Maine's Top Jobs
Purchase Photos