Wednesday, December 11, 2013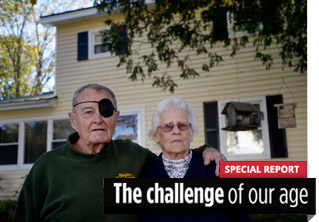 Cedric and Pauline Long were robbed of their retirement dreams by opportunists who were uncomfortably close to home.
WATERVILLE — Chris Hale had 25 points, 11 rebounds and five assists to lead Waterville to a 65-57 win against Maine Central Institute in Kennebec Valley Athletic Conference Class B boys basketball action Tuesday night.
George Smith
Mattagash, Maine is a fictional town filled with fictional people, but it might as well be real.
Today's Paper
Read the new e-edition
For a limited time, you can access our complete print edition in its exact layout for FREE! Browse page by page, including stories and ads, during this limited time offer.
Check out the e-edition, Today's Paper
Blogs
Maine on the Hill
Shipbuilders aim to pressure Congress on budget cuts
Today's Puzzles
Today's Crossword Puzzle

Today's Sudoku Puzzle

Maine's Top Jobs
Purchase Photos