Friday, December 13, 2013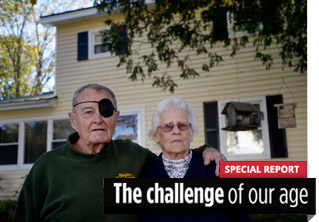 Cedric and Pauline Long were robbed of their retirement dreams by opportunists who were uncomfortably close to home.
Katie Thompson ended the 2012 season talking to a reporter, and crying because her players wouldn't get to play one more game. She ended this season talking to reporters, and crying because her seniors were getting exactly the ending they had hoped for.
Maine's governor is siding with out-of-state power companies while our air quality suffers.
Harraseeket Inn's Broad Arrow Tavern a great spot for lunch
Today's Paper
Read the new e-edition
For a limited time, you can access our complete print edition in its exact layout for FREE! Browse page by page, including stories and ads, during this limited time offer.
Check out the e-edition, Today's Paper
Blogs
Maine on the Hill
A political 'duopoly' in Maine? Cutler says so
Today's Puzzles
Today's Crossword Puzzle

Today's Sudoku Puzzle

Maine's Top Jobs
Purchase Photos